Welcome to the Hudson Area Schools Alumni Page
After graduation, we all scattered. After all our years of school together, we all went our separate ways. That's not a bad thing. We took what we learned at good ol' Hudson High and built successful careers, families, and lives. And wherever we went, we took a little bit of Hudson with us. But no matter where you go, or where you went, I encourage you to stay connected to this small town, and this small school. It made us who we are today. It's our home, and after all, we're all Tigers.

The Hudson Area Schools Alumni page is here to help you reconnect with your school. Use this page as a source of information about alumni happenings and other alumni matters. Find out what's new at Hudson, and share your stories to inspire current Tigers. You have a lot to offer. You can make a difference.

As a Hudson Alum, your involvement is critical to our success. I welcome you to stay in touch, to reconnect, and to inspire.

Best Regards,
Nancy Jenkins-Arno
Director of Development and Alumni Affairs
Class of 1982
Hudson Virtual Homecoming 2020
COVID restrictions don't allow a traditional homecoming this year, so we present a virtual homecoming. Enjoy the memories!

Thompson Field, home of the mighty Hudson Tigers, was donated to the City of Hudson in 1921 by G.I. Thompson and his son William, and was later deeded to Hudson Area Schools by the City. From the Press Box that was built in 1964, announcers, coaches and members of the press have witnessed the exploits of the outstanding football teams that have defined Hudson's legacy. Champions and leaders have emerged from this modest home field, and it's time to rebuild the Press Box so that it reflects Hudson's proud history.

The Current Condition
· Steep ladders are the only way to reach the second and third floors
· Rotting floors, peeling roof tiles, exposed electric wires, and unstable railings make the current Press Box unsafe
· Outdated bathrooms are not up-to-code

The New Press Box
· Will feature only a slightly larger footprint to accommodate stairs and make the bathrooms compliant
· Coaches will be able to watch games from inside

Will you help? Send your tax deductible gift to Hudson Area Schools, Attention: Press Box Fundraiser, 781 N. Maple Grove Ave., Hudson, MI 49247
Wave the Flag for Hudson High
In honor of the 50th anniversary of Hudson's historic winning streak, Wave the Flag for Hudson High was reproduced. Copies are available for purchase for $20.00 by sending a check to the Hudson Alumni Association, 550 E. Main St., Hudson, MI 49247.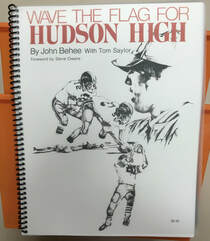 Hundreds of Hudson alumni have reconnected on Facebook. Join the community and conversation!
Planning a reunion, but don't know where to start? Contact the Hudson Alumni Association for a reunion planning guide, 517-448-8912, Ext. 456.
Alumni Information Request Form
It has been several years since the Hudson Area School and Clayton High School Alumni Directory was published, and much of the information is outdated. Will you help make sure our records are complete by filling out the form below? You can either download the file or fill in the form directly on this page, then click the submit button. Thank you!